DOUG CAMPBELL & DAVID GERMSCHEID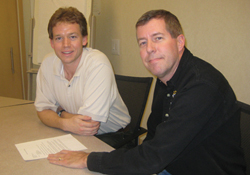 At Devon's office in Calgary, many employees choose to cycle to work, with some managers and VPs even choosing to give up their parking spaces in favour of pedaling. Devon has been the recipient of two Commuter Challenge awards. The company recognizes that its employees value sustainable transportation, and have provided on-site facilities to make commuting as convenient as possible.
Senior geophysicist Doug Campbell is no stranger to cycling as he pedals all year round, even in – 49C temperature. "I started riding in the early 80's, and my first bike back then was like an anvil on wheels. A lot of us didn't ride in the wintertime, but there was a group of avid cyclists and one of the geologists rode with the Fort McMurray Cycling Club which organized the Muffaloose ride from Fort Mac to Fort Chipewyan … in February." Campbell explains, "It was a 100 km ride which started off at – 25C and went down to – 35C. By the end of it, our batteries were freezing on our lights. Since then, I've been riding year-round," said Campbell. His current 12 km bike ride into work pales in comparison to the Muffaloose Ride.
Fellow geophysicist, Dave Germscheid has also chosen cycling as his means of commuting. "Not only do we have shower facilities at Devon, we also have underground parking spots so when your bike freezes up and is completely coated with slush and ice, it's given time to melt during the day, which is really nice." "Doug and I both rode last year on a day that was – 49C with wind-chill … that was a cold day," he said.
Both are proud to work for a company that shares their same values concerning the environment and health. Devon has championed changes that are conducive to these values. David, who can be credited for getting showers installed explains, "If you don't have these facilities, people aren't going to do it. Devon has opened up a second bike park because there are so many cyclists now, something like 80 bikes, and this is what inspired me to start riding."
Aside from the convenience and ease of riding to work, the health and aesthetics of an inner-city commute that doesn't feel like one, is preferable to any other method of travel. David expresses it well, "I don't feel like I'm in the city when I take my commute around the reservoir and along the Elbow River; I've seen deer, coyotes, fish, ducks. I chose the nature path and it's scenic the whole way."
Company Highlights

Name:
Devon Canada Corporation
Industry: Oil & Gas
Size: 1,110 employees

Incentives:
Secure underground bicycle storage, showers and locker facilities.

Work structures:
- Flex hours
- Compressed work week

Programs:
- Commuter Challenge (placing 2nd for companies over 1,000 employees in 2008)

Promotions:
- Bulletin board for those interested in carpooling

Employee Highlights

Name: Doug Campbell
Occupation: Senior Geophysicist

Mode of Transportation: Cycle
Distance from work: 12 km

Like best about commute: "The scenery is beautiful riding along the pathways, with no traffic hassles."
Motivation: Reduce cost of parking, health benefits and avoid traffic issues.
Message to others:
"Feel good about your
commute, ride a bike!"

Employee Highlights

Name: David Germscheid
Occupation: Geophysicist

Mode of Transportation: Cycle
Distance from work: 15.5 km

Like best about commute: "Calgary has a great pathway system that keeps me out of the traffic and I get to experience a little bit of nature in the big city …"
Motivation: Reduce cost of parking, health benefits and avoid traffic issues.
Message to others:
"Most people know they could be cycling instead of driving,
and when they see more and more people doing it some will
come to me and ask, 'so how do you get here from where you live?' or 'how do we get access to that bike parking?' and that's when I tell them how convenient and fun it
really is."