RYAN SARETZKY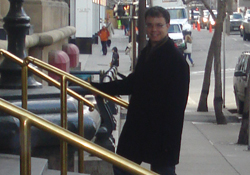 Ryan Saretzky's morning walk to work is the first step taken each day toward a day dedicated to an environmentally sustainable future at his workplace. The rest follow as he moves around the main floors and dining areas of the elegant Fairmont Palliser Hotel in downtown Calgary.
Nationwide, the Fairmont Hotel chain, under the Green Partnership programs, has been fully green for the last twenty years. They have been winning awards for the extended efforts they make within their corporate structure and for the guests that they provide for.
For Saretzky, "Sustainability means encouraging more than just an individual, but the community to participate in going green; my company has inspired me to change my practices and to think environmentally outside of my work as well."Other environmental measures include a bottled water reduction program, electronics recycling, river and highway clean ups, sponsoring Calgary Zoo conservation programs, and free valet parking for hybrid cars. The hotel itself does not own its own parking lot and provides free valet service for all highbred cars.
The same mentality continues in the kitchen, as Saretzky poses for a photo with a chef and an organic pumpkin. "When speaking of the philosophy of corporate culture, we can't escape our green committee dedication, it's a huge part of Fairmont initiatives," Saretsky says. All food processed and served comes from local organic farms.
Ryan anticipates continued program expansion in the future.
Company Highlights

Name: Fairmont Hotels and Resorts, The Fairmont Palliser
Industry: Hospitality
Size: 300 employees

Incentives:
- Showers
- Lockers for all employees

Rewards:
- Company awards ceremony during Commuter Challenge

Programs:
- Commuter Challenge and regular communications to staff about commuting
- Walk with a buddy program for late shifts workers

Promotions:
- Commuter bulletin boards
- Green Commuter newsletter during Commuter Challenge
- Promotion of carpool.ca

Employee Highlights

Name: Ryan Saretzky
Age: 26
Occupation: Senior Banquet Captain

Mode of Transportation: Walk
Distance from work: 1 km

Like best about commute: "It's short."
Motivation: Reduce cost of parking, health benefit and avoid traffic issues
Message to others: "… cheaper, and better for you"