JO WRIGHT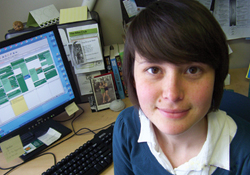 Jo Wright is a natural expert on the topic of sustainability, and incorporates her work into her lifestyle choices. "My job is hectic and hard to leave at home because it's tied to my values," she said. Jo left her hometown in the United Kingdom for the job she loves in Calgary, and she remembers what it was like to move. "I realize that I'm very lucky [in terms of where I live] in Calgary because inland planning only constitutes about 2% of land use here. I walk to the supermarket, to get lunch and the paper and I have tons of facilities and parks around," says Wright of her area.
Though Jo takes transit in the winter, last summer she started to bike as well. This was a choice made out of both enjoyment for the mode of transportation, as well environmental interest. "You start to see the connections between social vibrancy, having chances to interact with people and available spaces, and realizing that we live on a finite planet … this has inspired me to tread more lightly."
The University of Calgary has committed to reducing transportation CO2 emissions by 50% from 1990 levels by 2036 and to increase transit ridership by 40% of 2006 levels by 2036. The University has developed a series of innovative programs to address sustainable transportation, such as the Top of the Lot, a parking management program that provides significant discounts to carpools, who are also rewarded with the best stalls in the parking lot. There is also an on-site car share (CATCO), the U-Pass Public Transit Program, Commuter Challenge and a campus no- idling policy – students are welcome to idle, but not cars or delivery vehicles! The student-led Campus Bike Initiative (cooperative) opened the Bicycle Root in September 2008. The initiative includes a bike workshop and a bike library allowing students to borrow bikes.
Company Highlights

Name: University of Calgary
Industry: Post Secondary Education & Research
Size: 5000 employees

Incentives:
- Carpool matching service
- Carshare program
- Some secure bike parking
- Lockers, showers
- Transit subsidy for students
- Bicycle co-op
- Bike repair shop
- Bike Library
- Reduced parking rates for carpoolers

Work Structures:
- Department specific

Programs:
- U-pass
- Commuter Challenge
- Top of the Lot
- Bike workshops for late shift workers

Promotions:
- Commuter bulletin board during Commuter Challenge
- Year-round carpool.ca promotion

Employee Highlights

Name: Jo Wright
Age: 25
Occupation: Sustainability Coordinator
Department: Office of Sustainability

Mode of Transportation: Transit or bike
Distance from work: 7 km

Like best about commute: "My bike commute during the summer is immensely enjoyable: it is convenient, quick, good exercise. Biking reduces the stress levels of my job and helps me to leave work at work."
Motivation: Mainly to reduce emissions and also for health benefits, enhance social interaction, social influence and avoid traffic issues.
Message to others:
"Where you live influences the choices in how you get around your community."